Pular volcano
Updated: Aug 24, 2023 16:25 GMT
-
stratovolcano 6233 m / 20,449 ft
Northern Chile, Bolivia and Argentina (South America), -24.19°S / -68.05°W
Current status: normal or dormant (1 out of 5)
Pular is a stratovolcano in the Antofagasta Region of northern Chile, NW of the Salar de Pular and 15 km from the border with Argentina. The volcano belongs to a 12-km long chain of several vents and volcanoes, which have erupted extensive lava flows.
A large satellite vent west of the ridge is known as Cerro Pajonales and is probably the youngest vent of the volcanic complex.
Reports of a small explosive eruption in 1990 could not be confirmed as to where it occurred.
Typical eruption style:
effusive
Pular volcano eruptions:
1990 (?)
Latest nearby earthquakes
Time
Mag. / Depth
Distance/Location
Sunday, August 13, 2023 GMT (1 quake)
Aug 13, 2023 11:50 am (GMT -4)

(Aug 13, 2023 15:50 GMT)




3.6


167 km
30 km (19 mi)
222 km southeast of Calama, Provincia de El Loa, Antofagasta, Chile
Background
Cerros Pular and Pajonales volcanoes are on the NE and SW end of 12-km-long volcanic ridge that is mostly older than 10,000 years. The volcanoes on the chain have erupted andesitic lava flows that overly older dacitic lava domes.
Many lava lava flows reached the lower flanks of the chain and there are about 10 craters.
(SOurce: Smithsonian / GVP volcano information)
Pular Photos
Agios Nikolaos chapel on Palea Kameni island, one of the two historic volcanic islands in the center of the Santorini caldera (Greece). The sea around the island with its...
Southern summit of Aragats volcano (3,887 m), a popular hike. (Photo: Tom Pfeiffer)
The gorge is a popular backdrop for instagram photos of participants of the wedding celebration. (Photo: Tom Pfeiffer)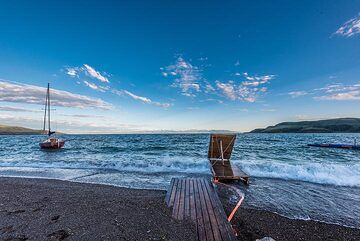 On calmer days and weekends, it is popular for locals to go bathing and sailing here. (Photo: Tom Pfeiffer)




See also: Sentinel hub | Landsat 8 | NASA FIRMS